HQ Series ¼″ – 2″ – Flat face couplers made to the ISO 16028 Standard
The HQ Series flat face couplers are Holmbury's flagship products, known globally for their leak free performance in high pressure pulse, hammer circuits and many other applications. Preferred choice for many global OEMs.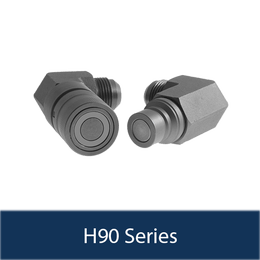 H90 Series – 90 degree flat face couplers made to the ISO 16028 Standard
Holmbury's H90 Series is designed for use in applications that require a 90° elbow in the hydraulic circuit, such as digger booms. The right angle design allows for easy mounting without the need for additional fittings, reducing potential leakage paths and cost.
HCP Series – Connect under pressure flat face male couplers made to the ISO 16028 Standard
Holmbury's HCP Series male couplers are designed to connect under pressure by hand with up to 350 bar locked in the male half, making it an ideal choice for applications where the ability to connect under pressure is essential. The HCP Series also benefits from all the key features of the HQ Series flat face couplers.
HP Series – High pressure flat face couplers fitted with a safety locking sleeve
Holmbury's HP Series flat face couplers provide a leak free solution for high pressure applications up to 720 bar. The safety locking sleeve prevents accidental disconnection and can only be disconnected when the release notch and locking ball align.
HNS Series – Flat face non spill couplers
Holmbury's HNS Series flat face non spill couplers are designed for applications where spillage must be kept to a minimum. They also help to reduce air inclusion.