Flow Meters
Value priced flow meters and guaranteed to perform, Lake flow meters are perfect for a variety of water, oil and air/gas flow meter applications.
Clear View Flow Meter
Economical flow meters to monitor municipal-pressure water flows, observe case drain flows and verify pump outputs.
Case Drain Monitor
Lake's Case Drain Monitor is an affordable option to using standard flows meter for case drain applications.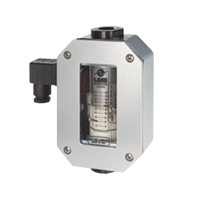 Flow Meter Alarms
Utilized in applications such as mobile hydraulic equipment and industrial process control to ensure sufficient flows of coolants and lubricants.
Flow Meter Transmitters
Ideal for batching, industrial process control, mobile hydraulic equipment and computer / PLC-controlled hydraulic systems monitoring application.
FlowStat Sensor (Stainless Steel)
FlowStat ES Sensor (Plastic)
Perfect monitoring solution for chiller / cooling circuits, HVAC, medical equipment, batching and industrial process control applications.
FreeFlow Sensor
Minimally invasive, low cost segmented wedge flow sensor. Used to monitor and control process water.
Flow Analyzers (R100 & R/T100)
Integrates with Lake's flow rate transmitters and FlowStat® to form a powerful flow control and measurement system.
Hydraulic Diagnostic Products
Diagnose faults in hydraulic circuits, determine hydraulic horsepower and test for component wear such as hydraulic valve and cylinder leakage.
Weld Shield Gas Flow Switch
Used to detect insufficient flow conditions for automated or controlled shielded welding processes.
POSITIVE DISPLACEMENT, MASS CORIOLIS AND TURBINE FLOW METERS
For positive displacement, mass Coriolis and turbine meters, visit our new sister company
THERMAL MASS ,CORIOLIS, POSITIVE DISPLACEMENT AND TURBIDITY METERS
Based in Germany, Lake's other sister company is an experienced designer, manufacturer and supplier of precision flow meters.