HPTC Series – High pressure manual sleeve lock couplings
Holmbury's HPTC Series high pressure sleeve lock couplers are designed for applications where high pressures are present. The couplers are hardened to enable enhanced protection.
HS Series – General purpose screw connect poppet couplings made to the ISO 14541 Standard
Holmbury's HS Series screw connect couplings are designed primarily for high pressure pulse applications. They can be connected under residual system pressures of up to 50 bar. The HS Series is a cost effective, proven solution suited to many industries and applications.
KM Series – High pressure poppet valve couplings
Holmbury's KM 115/116 Series high pressure poppet valve couplings are primarily used in bolt tensioners and other high pressure applications. The KM 116 can withstand a higher maximum working pressure than the KM 115.
HTN Series – Poppet style couplings with a guided poppet
Holmbury's HTN Series poppet style couplings are a reliable and efficient option for use across a wide range of hydraulic applications.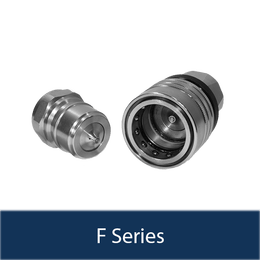 F Series – Connect under pressure high flow couplings with a safety locking sleeve
Holmbury's F Series high flow safety couplings offer three important benefits; high flow, connection under pressure and a safety locking mechanism to prevent accidental disconnection.
PWC Series – Free flow, valveless pressure washer couplings
Holmbury's PWC Series couplings are able to accommodate high flow rates and minimal pressure drops. The couplings are valveless, hence when disconnected any fluid in the system can escape. This makes these couplings suitable for the transmission of non-hazardous fluids only.
TB Series – Trailer brake couplings made to the ISO 5676 Standard
Holmbury's TB Series trailer brake couplings are used to connect the hydraulic braking system of tractors to trailers. The male coupling is normally panel mounted on the tractor.
PLC Series – Screw connect and pull break couplings interchangeable with the DIN V Series probes
Holmbury's PLC Series screw connect couplings allow for connection under pressure and are ideal choice for agricultural applications with high pressure pulses.